eddie burrup
the media release + the storm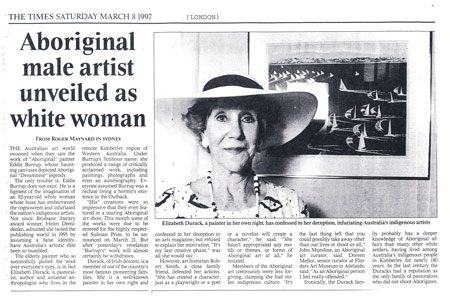 Art Monthly Australia, established in Sydney in 1987, has a reputation for esoteric contributions. It is well regarded by arts groups. Its circulation has never been large.
In 1997 it was based then, as now, in Canberra. The editor at the time, apparently ambivalent about the Durack/Burrup story, may have seen it as an opportunity to boost his magazine's circulation.
In any event, on March 8 1997 — the day Art Monthly hit the news stands — and without consulting those most affected, the editor took it upon himself to blitz the print and electronic media and leading Aboriginal organisations with a sensational announcement about an 81 year-old female artist from a well-known pastoral family producing paintings in the name of an old Aboriginal man.
The story made front-page news around Australia and the world.
'Blacks blast Durack for her art of illusion' The Weekend Australian March 8-9 1997
'Aboriginal male artist unveiled as white woman' The Times London, March 8 1997
Did the editor foresee the storm that ensued from his particular spin? Not according to his editorial in the following issue of the magazine.
Curiously, about a month later when asked for a copy of the media release, the editor claimed to have deleted it from his computer. (Efforts to obtain a copy have been unsuccessful.) Regardless, reading between the lines of the largely repetitious news stories, slanted reference to class, sex, age, colour and even morality had evidently been incorporated within the media release.
Additionally curious is the fact that in a subsequent book by the same editor, What's Wrong with Contemporary Art? (UNSW Press, 2000), no mention whatsoever is made of one of Australia's biggest contemporary arts stories.