eddie burrup
the revelation - in art monthly
Robert Smith came for lunch on Wednesday 2 October 1996 during which time Elizabeth broached the subject of Eddie Burrup.
The outcome of this meeting was a carefully considered article by Smith entitled 'The Incarnations of Eddie Burrup' scheduled for the March 1997 issue of Art Monthly Australia.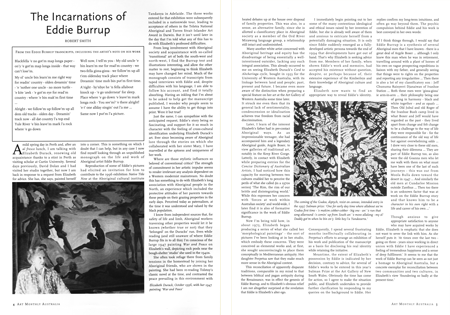 Smith, as a seasoned art historian, was sympathetic to the role of the creative artist and the predicament Elizabeth was facing. His aim was to ensure that an objective written record existed of the background to Durack's assumption of a male Aboriginal identity that, in turn, had led to a flowering of her talent.
Elizabeth was aware that submitting works by Eddie Burrup in the Sulman Prize was risky but was buoyed throughout by Eddie's distinctly alternative view of the shenanigans within art and political circles in late 20th century Australia; and, not least, by having his art understood and appreciated on its own terms. The chance that an alter ego's work might become a target for distortion, condemnation and claims of appropriation was far from her mind.
Robert Smith 'The Incarnations of Eddie Burrup' Australia Art Monthly No 97 Canberra, March 1997